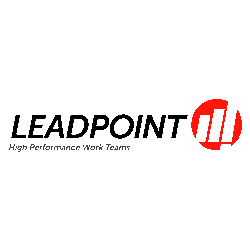 LeadPoint
Director of Recruiting, Phoenix Arizona
Phoenix, AZ
Apply Now
Director of Recruiting, Leadpoint Business Services, Phoenix AZ
Join Leadpoint Business Services @ LeadpointUSA.com as our Recruiting director. At Leadpoint, we offer unique workforce strategies that set us apart from other companies. As a Recruiting Director, you will lead the development of workforce recruiting programs that are custom designed to fit into the customers business and company culture.
This position will be responsible for all recruiting activities within the Leadpoint organization, this role will place advertisements, organize, and attend job fairs and other recruiting events in the local community. The recruiting director is a key leader on the Customer Experience team.
Essential Functions of the Director of Recruiting Role
Build and develop a strategic recruiting plan, ensuring cost-effectiveness and timeframe of campaigns.
Responsible to ensure that our customer locations are fully staffed.
Accountable for KPIs related to recruiting to include. Job fill rates, field stakeholder satisfaction scores, Applicant and Candidate Employee conversion rates, retention, and employee NPS.
Manages a recruiting team to ensure they are meeting daily/weekly/monthly KPIs for recruiting success.
Works closely with corporate and field recruiting team members as coaches who share best practices, provides recruiting assistance on critical needs, and manages/prioritizes and coordinates with operations on national-level initiatives.
Works with sales, operations, and customers when necessary to provide strategic planning relating to recruiting needs and programs.
Understands and manages the full candidate pipeline with a focus on the candidate experience.
Works with Staffing organizations to facilitate supplemental staffing requirements within the organization.
Competencies for the Director of Recruiting Role
Bachelors Degree or equivalent combination of skills and experience required
5+ years of experience as a Recruiting Manager or Senior Level Recruiter working with high volume accounts and directing or managing personnel.
Proficient in Microsoft Excel, Outlook, PowerPoint, Word & HRIS systems
Experience supervising recruiters/staffing coordinators
Experience managing full cycle recruiting process to meet staffing goals across all levels with multiple clients
Experience developing & implementing strategic procedures for recruiting diverse talent
Previous experience in staffing, human resources/recruiting, customer service, or retail
Experienced in sourcing candidates through job fairs, community involvement, non-profit groups, and other ground roots efforts.
Experienced in conducting onboarding and new hire orientation
Experience in business development and management is required
Equal Opportunity Employer
We are an equal opportunity employer and value diversity at our company. We do not discriminate based on race, religion, color, national origin, gender, sexual orientation, age, marital status, veteran status, or disability status.
About Leadpoint Business Services
Since 2000, Leadpoint Business Services has been helping waste and recycling companies become more efficient. That work starts with our employees - people like you. We hire, train, and put hundreds of people to work at our customers businesses every year. Then, we work with you to help you perform at your best. Please reach out to LeadpointUSA.com for further information.
This job description is intended to describe the general nature, complexity, and the level of work performed by employees assigned to this position, and it must not be interpreted as an exhaustive list of responsibilities, rights and / or skills required. Do not prescribe or restrict the work that can be assigned. In addition, this does not establish a contract of employment and is subject to change at the discretion of the company.
Apply for this position
First Name*
Last Name*
Address*
City*
State*

Select A State *AlabamaAlaskaArizonaArkansasCaliforniaColoradoConnecticutDelawareDistrict of ColumbiaFloridaGeorgiaHawaiiIdahoIllinoisIndianaIowaKansasKentuckyLouisianaMaineMarylandMassachusettsMichiganMinnesotaMississippiMissouriMontanaNebraskaNevadaNew HampshireNew JerseyNew MexicoNew YorkNorth CarolinaNorth DakotaOhioOklahomaOregonPennsylvaniaRhode IslandSouth CarolinaSouth DakotaTennesseeTexasUtahVermontVirginiaWashingtonWest VirginiaWisconsinWyomingArmed Forces AmericasArmed Forces EuropeArmed Forces Pacific

Zip*
Home Phone*
Cell Phone*
Email*

What Position are you interested in*

Please select the Job Title you are most interested in.

ManagementAdministrativeCorporate Office

Are you currently employed?*
If you were offered a job today that meets all your employment criteria, when could you start?**

Are you eligible to work in the United States?*
How did you hear about Leadpoint?*
List relevant experience and any skills:
Select your location interest*

Not ListedAlbany, NYAppleton, WIAtlanta, GAAustin, TXBangor, MEBirmingham, ALBoise, IDBoston, MAChesapeake, VAChester, VAChicago-South Suburbs, ILCincinnati, OHCity of Corpus Christi, TXClackamas, ORCleveland, OHColorado Springs, CODenver, CODetroit, MIFort Worth, TXGrand Rapids, MIHartford, CTHouston, TXIndianapolis, INJackson, MSJacksonville, FLLas Vegas, NVLewiston, MEMadison, WIMcKinney, TXMiami, FLMillville, NJMilpitas, CAMinneapolis, MNMontgomery, ALNew Boston, MINew Orleans, LANew York, NYNorfolk, VANorth Phoenix, AZOberlin, OHOklahoma City, OKPensacola, FLPhiladelphia, PAPhoenix, AZPittsburgh, PAPlano, TXPortland, ORRichmond, VASalt Lake City, UTSan Antonio, TXSan Diego, CASan Jose, CASanta Barbara, CAScottsdale, AZSeattle, WASouth Bend, INSouthfield, MISpokane, WASt Lucie, FLSt Petersburg, FLTacoma, WATallahassee, FLTempe, AZTroy, MIVancouver, WA

Date*

Upload Resume

Optional: Please feel free to upload a resume for review by our recruiting team.

CAPTCHA
104142098
104142098