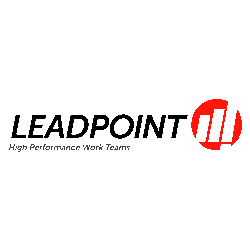 LeadPoint
Administrative Assistant, Corporate Phoenix, AZ
Phoenix, AZ
Apply Now
Administrative Assistant, Corporate Phoenix, AZ , Full-Time, Training and Benefits Provided.
Leadpoint Business Services is currently seeking an Administrative Assistant for our Corporate office. This Administrative position supports the team in several important functions such as Customer service, Receptionist, and Human Resource functions. Due to the diversity of responsibilities, the ideal candidate will be a competent and resourceful individual with a passion for HR.
This is a full-time, permanent job in a team-oriented environment. Youll have the chance to start right away and move up over time.
Benefits for Administrative Assistant
Full-time job with weekly pay.
Monday through Friday 8:00 am - 5:00 pm (Saturdays, as needed)
Overtime and incentive pay may be available.
Benefits: health insurance, dental, vision and paid time off.
Opportunity for career growth.
Responsibilities of the Administrative Assistant
Performs customer service functions
Ability to perform all Receptionist tasks
Practices attention to detail
Communicates with proper phone etiquette
Makes photocopies; mails, scans and emails documents; and performs other clerical functions.
Bilingual in Spanish language helpful (not required)
Requirements of the Administrative Assistant
High School Diploma
Computer/Technology Proficiency - MS Office, Excel, Outlook
Communication skills
Critical Evaluation
Ethical Practice
HR Skills
Multitask
One year experience
Equal Opportunity Employer
We are an equal opportunity employer and value diversity at our company. We do not discriminate based on race, religion, color, national origin, gender, sexual orientation, age, marital status, veteran status, or disability status.
About Leadpoint Business Services
Since 2000, Leadpoint Business Services has been helping waste and recycling companies become more efficient. That work starts with our employees - people like you. We hire, train, and put hundreds of people to work at our customers businesses every year. Then, we work with you to help you perform at your best.
This job description is intended to describe the general nature, complexity, and the level of work performed by employees assigned to this position, and it must not be interpreted as an exhaustive list of responsibilities, rights and / or skills required. Do not prescribe or restrict the work that can be assigned.
Apply for this position
First Name*
Last Name*
Address*
City*
State*

Select A State *AlabamaAlaskaArizonaArkansasCaliforniaColoradoConnecticutDelawareDistrict of ColumbiaFloridaGeorgiaHawaiiIdahoIllinoisIndianaIowaKansasKentuckyLouisianaMaineMarylandMassachusettsMichiganMinnesotaMississippiMissouriMontanaNebraskaNevadaNew HampshireNew JerseyNew MexicoNew YorkNorth CarolinaNorth DakotaOhioOklahomaOregonPennsylvaniaRhode IslandSouth CarolinaSouth DakotaTennesseeTexasUtahVermontVirginiaWashingtonWest VirginiaWisconsinWyomingArmed Forces AmericasArmed Forces EuropeArmed Forces Pacific

Zip*
Home Phone*
Cell Phone*
Email*

What Position are you interested in*

Please select the Job Title you are most interested in.

ManagementAdministrativeCorporate Office

Are you currently employed?*
If you were offered a job today that meets all your employment criteria, when could you start?**

Are you eligible to work in the United States?*
How did you hear about Leadpoint?*
List relevant experience and any skills:
Select your location interest*

Not ListedAlbany, NYAppleton, WIAtlanta, GAAustin, TXBangor, MEBirmingham, ALBoise, IDBoston, MAChesapeake, VAChester, VAChicago-South Suburbs, ILCincinnati, OHCity of Corpus Christi, TXClackamas, ORCleveland, OHColorado Springs, CODenver, CODetroit, MIFort Worth, TXGrand Rapids, MIHartford, CTHouston, TXIndianapolis, INJackson, MSJacksonville, FLLas Vegas, NVLewiston, MEMadison, WIMcKinney, TXMiami, FLMillville, NJMilpitas, CAMinneapolis, MNMontgomery, ALNew Boston, MINew Orleans, LANew York, NYNorfolk, VANorth Phoenix, AZOberlin, OHOklahoma City, OKPensacola, FLPhiladelphia, PAPhoenix, AZPittsburgh, PAPlano, TXPortland, ORRichmond, VASalt Lake City, UTSan Antonio, TXSan Diego, CASan Jose, CASanta Barbara, CAScottsdale, AZSeattle, WASouth Bend, INSouthfield, MISpokane, WASt Lucie, FLSt Petersburg, FLTacoma, WATallahassee, FLTempe, AZTroy, MIVancouver, WA

Date*

Upload Resume

Optional: Please feel free to upload a resume for review by our recruiting team.

CAPTCHA
104142117
104142117